Nail Sculptures
217 Dundas Street East, Whitby, ON
905-666-3018

Click on the Nail Services or Spa Services tab to learn more about what we do. Oh, and remember, all the pictures of hands in the gallery are actual clients of the salon.
Nail Sculptures has been providing superior nail service to Whitby since 1995.

Nail Sculptures specializes in a unique type of nail sculpting not widely practiced due to the intricate nature of the application. It is a true art form that requires a special technique that involves creativity and a great attention to detail. Our technicians will take into account the shape of your hand, nail, and nail bed to create the most natural looking nail possible. The benefits are a finished nail that requires no airbrushing or polish, and no embarrassment of a nail popping off on a night out on the town!
Enjoy a downtown feel in a small town environment!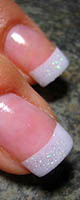 Nail Sculptures is known by some of our clients as "Whitby's best kept secret."
We strive to offer you a friendly, relaxed and professional atmosphere.
Gift Certificates are also available for those special occasions.
Call to book your appointment. See you soon.